Lavender Bridal Bouquet
Lavender Bridal Bouquet
The Lavender flowers message is one of refinement and royalty! Lavender represents love, success & happiness. Its beauty and aroma speak of grace, elegance and femininity.
> Naturally dried lavender
> No artificial fragrance/ colour added
> Lavender scent lasts up to 1 year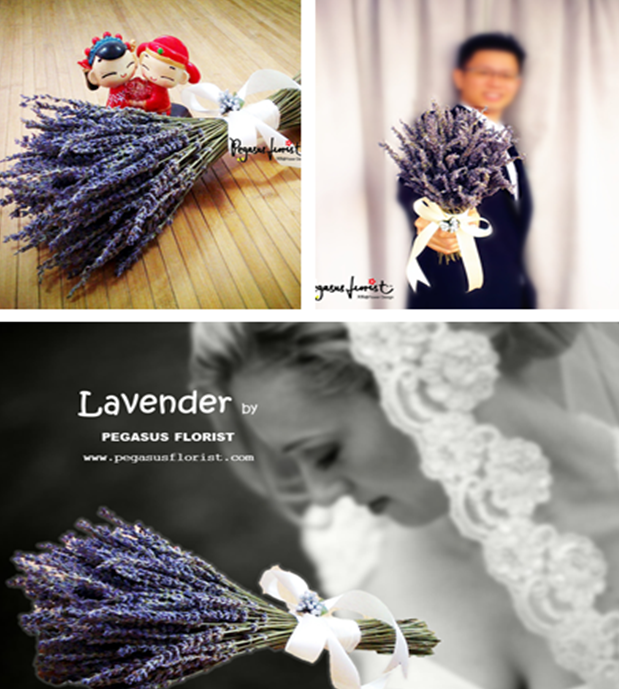 Unique lavender bridal bouquet for
Pre-wedding photo shooting

Registration of Marriage (ROM)

Actual day (morning "chu men" session)

Garden wedding
Consists of
Lavender bridal bouquet x 1 (250pcs lavender)

Size: ≈40cm (height), ≈14cm (diameter)
Dimension of the box
51.5cm (h) x 25.5cm (l) x 10.0cm (w)
**Lavender is not meant for consumption**
How to take care
Do not water/ wet

Do not expose to direct sunlight/ heat

Gently pinch when the fragrance fades away

Avoid frequent touch

Blow gently with hairdryer when dusty
Remark:
There are 250pcs of naturally dried lavender in the bridal bouquet.

Due to the nature of dried flowers, little drop of flower buds is normal. You may use them for the scented bag :)
Volumetric weight = about 3.00kg
1. Can I customize the ribbon?
Our ribbon is one type only (as in photo). We have picked the most suitable ribbon (colour: ivory; material: satin) for you so that it will not over-shine the lavender, which is the second focus of your big day. Also, it is neutral enough to match well with any costume :)
2. What will I get?
You will get a lavender bridal bouquet x 1, consists of 250pcs of naturally dried lavender, wrapped in Ivory Satin ribbon.
3. How early shall I place the order?
For lavender bridal set, we recommend you to order from us 2 weeks in advance. Just in case there is a problem during shipping, we will have time to react. This doesn't happen, but with weddings it is better to be safe than sorry.
4. How many days do you need to process my order?
Once the payment is made, we will start to prepare your order & ship out within 3 working days.
5. There are drop of lavender buds when I open the box. Is it normal?
Due to the characteristic of dried lavender, it is normal to have little drop during the transportation. Rest assured that the bridal items will be carefully packaged to ensure they reach you in good condition. For the dropped lavender buds (if any), you may use them as the scented bag to ensure zero wastage from our product :)
6. I can no longer smell the lavender scent on my big day. Why?
Please bear in mind that our lavender is naturally dried & no artificial fragrance/ colour added. The scent is purely natural and mild, unlike the intense artificial fragrance that may cause discomfort such as dizziness & nausea to certain user. So, for those who ordered earlier, you may not smell them after some time.
7. What should I do then?
Gently pinch the buds with your fingers & you will smell the refreshing lavender scent again. Pinch more if you prefer a stronger scent.
8. Why my fingers feel slightly oily when pinching the lavender buds?
When you pinch the buds, this will release their natural lavender essence oil with refreshing scent. That's why you may feel slightly oily on your fingers.
9. What else should I pay attention to?
Never wet your lavender & keep them in the box until your big day. Always store them in a dry & ventilated place. Please bear in mind that our dried flowers do not undergo chemical treatment to ensure no chemical residues remain. So, please avoid humid area as bugs and mold love a humid home. If you notice any, it's time for you to expose them to sunlight for a while, so that they stay dry all the time.
10. May I know about the shipping & payment method?
For shipping, please click here; while for payment method, please click here.
---