M.R. Lavender (Ian)
M.R. Lavender (Ian)
M.R. Lavender = Mini Robot & Lavender
M.R. Lavender (Ian) consists of
Mini Robot Necklace Set (Ian) x 1

Lavender Scented Bag x 1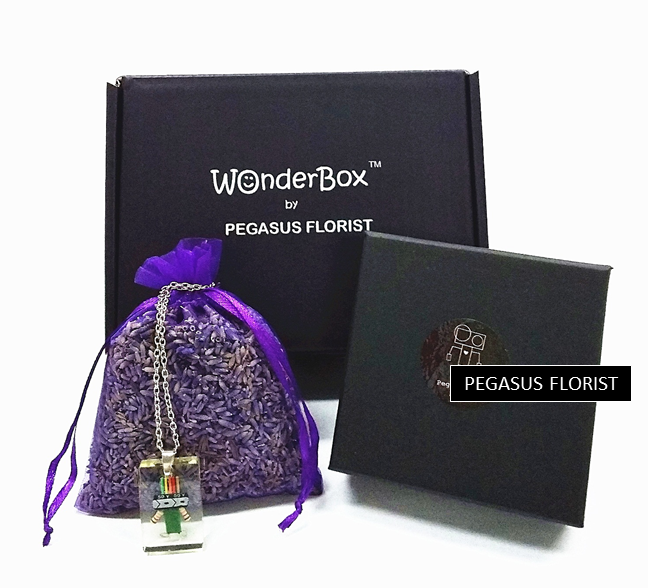 Mini Robot Necklace Set
All our mini robots are handcrafted from various electronic components of different shape, colour & design.
Upon crafted, our mini robots are carefully encased in quality resin with high transparency. They are further polished to create a smooth, shiny pendant & made into necklace for easy carrying.
As they are handcrafted, each of them is unique. They even have names & come with an Identity Card! Date of adoption will be stamped upon purchase :)
15 mini robot designs to choose from. Definitely a cool stuff for you & your loved ones. Adopt your preferred today & let them share your happiness in life!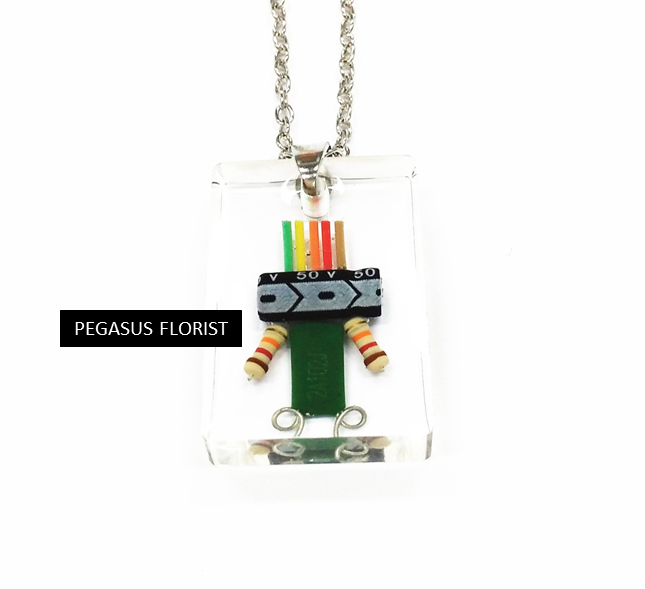 Name: Ian

Pronunciation: EE-uhn (click here

for audio pronunciation)

Gender: Male
>Pendant: High quality resin with white gold plated bail connector
>Pendant size: about 2cm (l) x 3cm (h)
>Inside pendant: Handcrafted mini robot
>Chain: 60cm white gold plated, with Lobster Clasp
>Come with an Identity Card
>Gift box is included
Dimension of the gift box
8.5cm (w) x 8.5cm (l) x 3.5cm (h)
How to take care
Protect accessories from scratches, chemicals & extreme temperatures.

Do not wear while in pool, hot tub or bathing. The chlorine in the water may damage plated items.

After each wearing, gently wipe with a 100% cotton cloth to clean of dirt & skin oil.

Store accessories in box when not in use.
Lavender Scented Bag
The Lavender flowers message is one of refinement and royalty! Lavender represents love, success & happiness. Its beauty and aroma speak of grace, elegance and femininity.
> Naturally dried lavender
> No artificial fragrance/ colour added
> Lavender scent lasts up to 1 year
Benefit
Purify air

Promote relaxation

Improve sleep quality

Boost memory

Repel insect
Where to put
Wardrobe, shoes cabinet, car and etc.
**Lavender is not meant for consumption**
How to take care
Do not water/ wet

Avoid direct sunlight/ heat

Gently squeeze the bag when the fragrance fades away
Dimension
About 9cm (w) x 11.5cm (h) [before filling up]

Weight = about 25g
Weight = about 0.13kg
1. What will I get in this set?
You will get Mini Robot Necklace Set (Ian) x 1, Lavender Scented Bag x 1.
2. What is the material of this necklace?
The Mini Robot pendant is 2cm (l) x 3cm (h) quality resin with white gold plated bail connector, while the chain is 60cm white gold plated with Lobster Clasp.
3. Is the gift box included?
Yes, our Mini Robot Necklace Set comes with a black, minimalist gift box. It is then placed into a dark blue box together with Lavender Scented Bag x 1.
4. I can't smell my lavender scent after a while. Why?
Please bear in mind that our lavender buds are naturally dried & no artificial fragrance/ colour added. The scent is purely natural and mild, unlike the intense artificial fragrance that may cause discomfort such as dizziness & nausea to certain user. So, you may not smell them all the time.
5. What should I do when the lavender scent fades away?
Gently squeeze the scented bag & you will smell the refreshing lavender scent again. Squeeze more if you prefer a stronger scent :)
6. Why my hand feel slightly oily when squeezing the lavender scented bag?
When you squeeze the lavender scented bag, this will release their natural lavender essential oil with refreshing scent. That's why you may feel slightly oily on your hand.
7. What else should I pay attention to?
Never wet your lavender. It is advisable to put them in a dry & ventilated place. Please bear in mind that our dried lavender buds do not undergo chemical treatment to ensure no chemical residues remain. So, please avoid humid area as bugs and mold love a humid home. If you notice any, it's time for you to expose them to sunlight for a while, so that they stay dry all the time. Also, gently pat the lavender scented bag once a while to remove any trapped dirt & dust.
8. May I know about the shipping & payment method?
For shipping, please click here; while for payment method, please click here.
---